AQUA AF 2000 Solar is a filtration plant (module), devised for long-time and trouble-free supply of potable water, employing any source of water (river, larger creek, well, deep drilled well). Its advantage consists in simple and fast assembly, cheap and easy maintenance and choice of individual components providing for maximally failure-free operation.
This fi ltration module is intended for a village with population of about 150 inhabitants. There is envisaged a consumption of 10 litres of potable water per inhabitant for the purposes of drinking, preparation of food and provision of potable water to domestic animals). With larger villages, from 150 to 300 inhabitants, the supply of potable water is secured by a second module.
This filtration module consists of a high-performance filtration unit, with the effi ciency in purifying the input water 99.4 %, output from 230 l per hour and one-shot drawoff of potable water up to 2.000 litres in specialised plastic tank for potable water, situated 1.5 metres below the ground. This installation provides potable water of the temperature 20–25 degrees Celsius. At a draw-off of potable filtered water, there is triggered automatically an immediate production (filtration) of potable water and replenishment of the tank.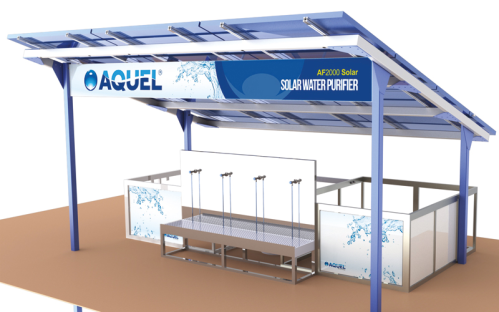 The daily output of this module is 2.000 litres of wholesome water, mineralised in a ratio and quantity of mineral substances which is ideal for human organism (calcium and magnesium). The water is bacteriologically fully wholesome, with a purifying effi ciency 99.96 % both by the system of fi ltration through an osmotic membrane of the latest type and at the same time, by means of high-performance UV lamp at four output faucets, which provides for full bacteriological wholesomeness.
The filtered water will be filled in 10-litre plastic canisters AQUA, which are to be allotted to every inhabitant of the village. This fi ltered water is wholesome; it helps to disintoxicate the organism and eliminates undesirable substances out of it. It is very tasty, without any odours or disagreeable flavour.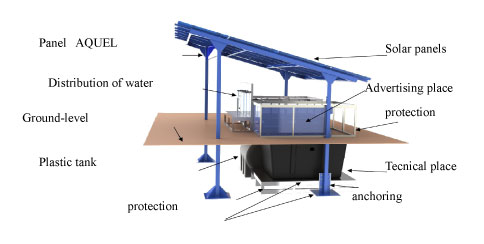 The principal features of this filtration module are an easy installation, maximum yield of filtration by reverse osmosis and independence on electric network thanks to connection to a standalone photovoltaic system. In case of bad weather, the electric power is supplied from recharging batteries, which subsequently get recharged from the photovoltaic system. As concerns the localities where there is a shortage of sunshine (due to bad weather, forest or other ground cover etc.), we are able to supply a wind power plant of the same output there.
The whole filtration technology including the control unit and the standby charging batteries is installed in a solid plastic container with lockable lid, intended for emplacement under the ground at the depth of about 1.5 metres, in compliance with your requisites. All components (fi ltration system, R.O. system, UVC steriliser, converter, solar batteries) are fastened by means of stainless and aluminium supports and holders, including hydraulic and electric connections.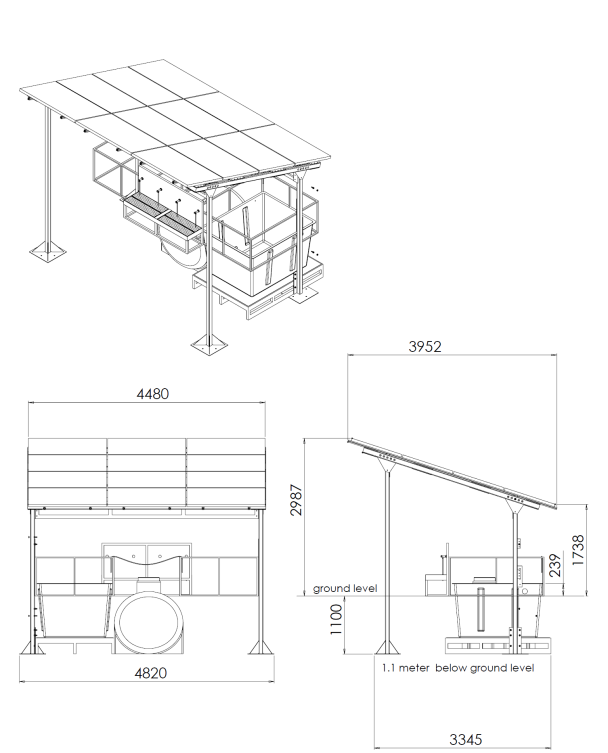 Dimention of module:
length ...............................4,9 m
breadth .............................3,4 m
height from ground-level .....3,0 m
depth under ground-level ....1,1 m
The installation is very simple and is provided by professional technicians of AGRO AQUA PRO Ltd. It includes the preparation of the plot intended for accommodation of the container with our equipment, emplacement of the reserve tank of treated water, installation of water faucets and electric connections. All systems are equipped with technical manuals and DVD in English and French, facilitating the installation and calibration of systems to technicians. We have got full CE and NSF certification for all components.